CrowdNewswire – Feb 27, 2017
PowerTrux: The Fastest Electric Skateboard System
The fastest and longest-distance electric motor system for any skateboard or longboard.
PowerTrux
The Fastest & Longest Distance Electric Skateboard
Introducing PowerTrux – the ultimate electric motor system that converts your board into a powerful, motorized, street-shredding machine. We've incorporated the best specs into a compact, versatile, and affordable package. Speeds up to 25 MPH, distances spanning 18 miles, and power to get you up a  30% grade, PowerTrux does it all. Simple to install and easy to use, transform your board or use one of ours. Installs in 5 minutes using your existing hardware – no drilling required!
Intuitive as it is powerful, the PowerTrux is the perfect ride for the ultimate commuter. So Whether it's getting to classes or hitting downtown, let PowerTrux get you there.
We've partnered up with Jaseboards from Hawaii who makes some of the slickest bamboo longboards we've seen. If you're looking for a complete solution, you can get full deck and PowerTrux at a killer deal!
Come. See. Conquer with ViDi.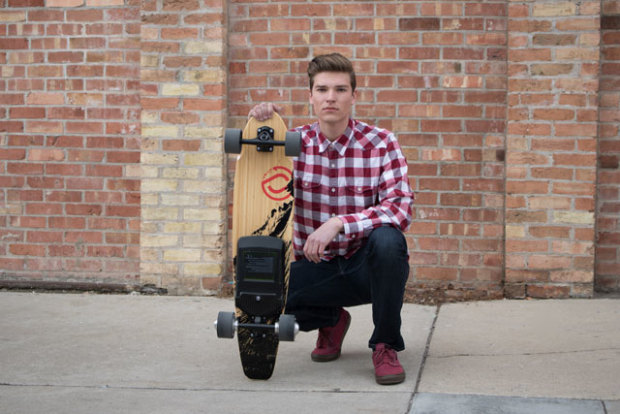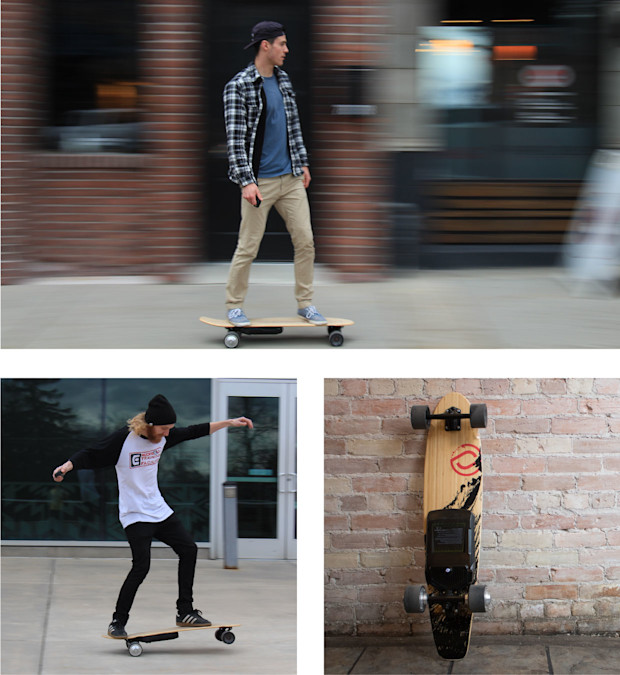 Key Features
Universal system – can retrofit on most longboard and skateboards
18 Mile Range
25 Miles per hour
30% grade incline
Airplane friendly
Intuitive – Easy to control with the remote control
Dual motor system – powerful and equal acceleration
Regenerative braking – stop without having to get off the board, recharge your batteries at the same time
Replaceable wheel treads – have a system that will last a long time
Your board, Your Style
Power to the People – Designed with you in mind,  we made the PowerTrux as a retrofit system that converts your favorite longboard or skateboard into the ultimate electric machine. No more getting stuck with a board you hate – because you know what works best for you.
Go the Distance
One of the problems we encountered with existing boards is that they would only go a short distance before running out of juice, then you would have to plug in the entire and wait before you could use it again.
We designed ours with an easily swapable battery pack so you can go the distance. Charge a spare battery so you can always have one ready to go.
Each pack goes up to 18 miles, carry extra batteries in your pack to extend distances as far as you dare to go!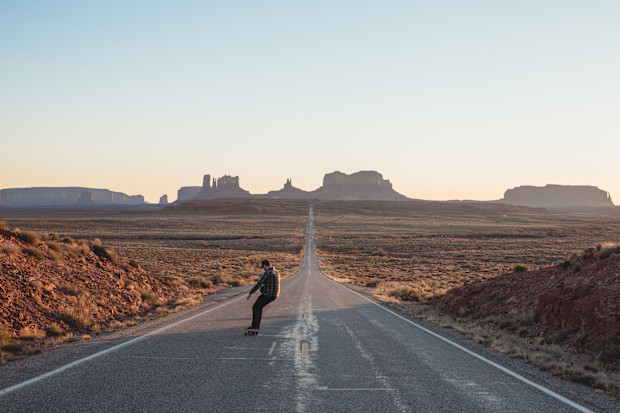 Easy to Install
No drilling required –  The PowerTrux is a simple, 5-minute installation which mounts using your existing hardware. Compatible with nearly all boards, you can easily swap it to a different board for a new riding experience.
Go Anywhere
IP65 and double sided bearing protection makes it water and dirt resistant so you never have to worry about your board and plow through the roughest of weather.

Airplane friendly – Our system meets FAA battery requirements (under 160Wh) so you can take your board anywhere. Simply detach the battery and keep it in your carry-on and you're good to go.
Commute in Style
Ultimate Convenience –  Go anywhere in style – whether that's to class or downtown. Bicycles are large and cumbersome; Electric scooters are large and bulky. Pair PowerTrux with a shortboard cruiser for the ultimate convenience.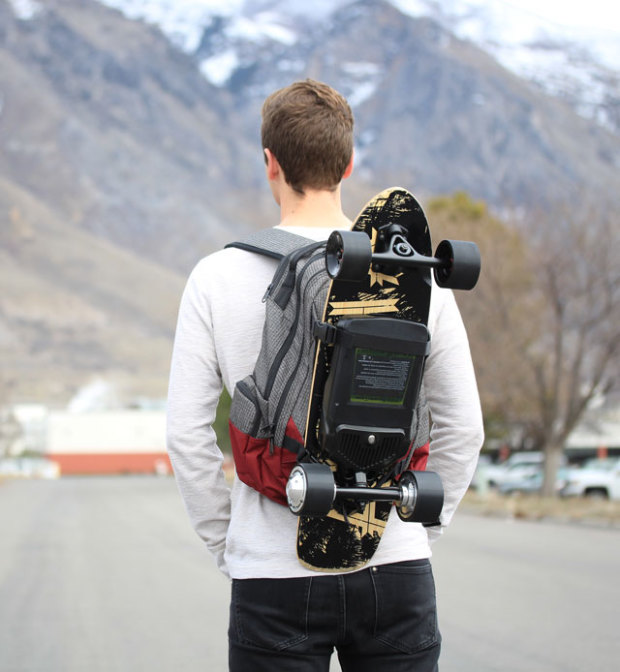 Regenerative Braking
PowerTrux has regenerative braking to maximize your distance. Recharge your batteries when stopping or breaking. This is the same technology used in Teslas and the Porsche 918.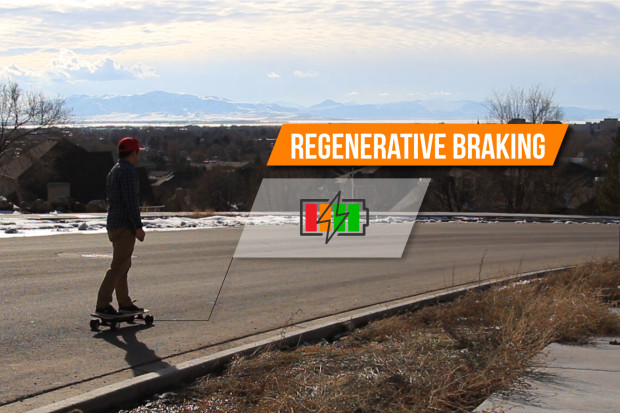 Dual Motor System
Powerful, smooth, and quiet – PowerTrux uses a 2000 Watt dual motor system for equalized and robust acceleration. Unlike other boards that use a single motor, you won't have a problem conquering the steepest of hills to get you where you need to go. Easily handles handles heavier riders at a 265 lbs weight rating without breaking a sweat.
Changeable Wheel Treads
Would you replace your car motor every time you changed your tires? Didn't think so. Other electric boards don't allow you to replace the wheel without getting a whole new board or motor.
We designed our wheels with replaceable treads so your PowerTrux can last you a lifetime. Easily replace your treads easily in 3 minutes.
The Power is in your Hands
The ergonomic, wireless remote is simple and easy to control. The thumb throttle is intuitive to speed up and slow down. Two speed settings for your comfort. Also gives you easy readings of the battery life of the board, and the remote battery. Recharge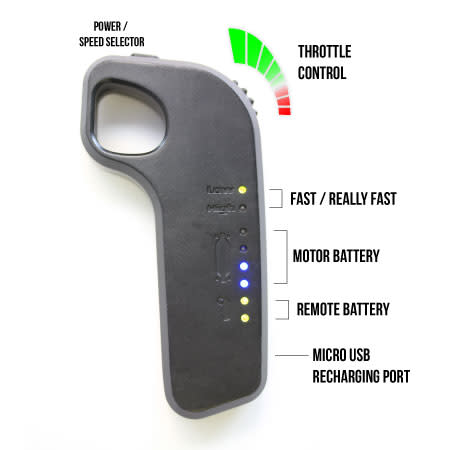 Attention to Detail
The devil is in the details. We've thoroughly tested, received feedback, iterated, and continually improved our design to bring you the best.
Aircraft Grade Aluminum –  PowerTrux is crafted with aircraft grade aluminium to give it structural strength yet remaining lightweight. Think of it as your personal private jet.
Hall Effect Sensors – A brilliant scientist by the name of Edwin Hall figured out a way to measure a current using magnetic forces. We utilized his work and built in protection systems so the electronics, batteries, and motors are all safe against shortage, overload, burnout, overheating, and explosions. (No hoverboards here.)
Controlled Acceleration – This ain't no rodeo. We built in acceleration limit controls so you don't get bucked off your board. Safely and gradually accelerate to get you started.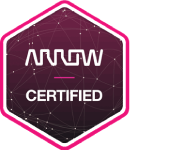 Arrow Certified – you don't need to take our word for it. Arrow has performed a comprehensive review by their expert engineers and have certified our manufacturing process and product to be top notch. We've got our ducks in a row.
Save Your Soles
Easy Start; Easy Stop — Beginners and veterans alike can get going easily and intuitively. No need to kick start. Start simply and stop safely all without putting a foot down.
Best In Class
We've done out homework and looked at all the other electric boards on the market. Many are poorly made with a single motor, non-changeable tires, short battery life, or ridiculously expensive.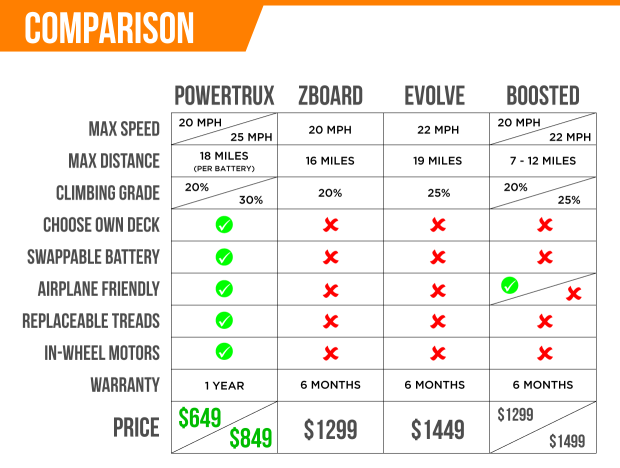 TESTIMONIALS
See what riders have had to say once they get on a PowerTrux board:
"THE TESLA OF SKATEBOARDS"
When I first mounted the PowerTrux on my board, I hopped on it and was like, 'Holy smokes! This thing is fast!' It was a lot quicker than I thought it would be. It's like the Tesla of skateboards. It's super quick. I love it!" ~Jase B
"A CONCEPT I WISH WE COULD ALL GET BEHIND"
Going uphill and never have to push at all – now that is a concept I wish we could all get behind. When we were going uphill and weaving in and out of the pillars… that was about  as good as it gets. ~Stephen K
"NEVER DROP A FOOT"
It's fun. You never have to drop a foot to brake. You can brake all you want.  If you're talking about getting around town on a Segway versus the PowerTrux, this is way cooler, way less dorky. I like how it has smooth acceleration into your powerband. Overall, it's pretty wild. " ~Mason M
Technical Specifications
Recharge Time: 2.5 Hours
Wheel Size: 93mm
Weight: 8 lbs (PowerTrux Pro) / 7.7 lbs (PowerTrux)
Width:  6.88 inches
Two Options Available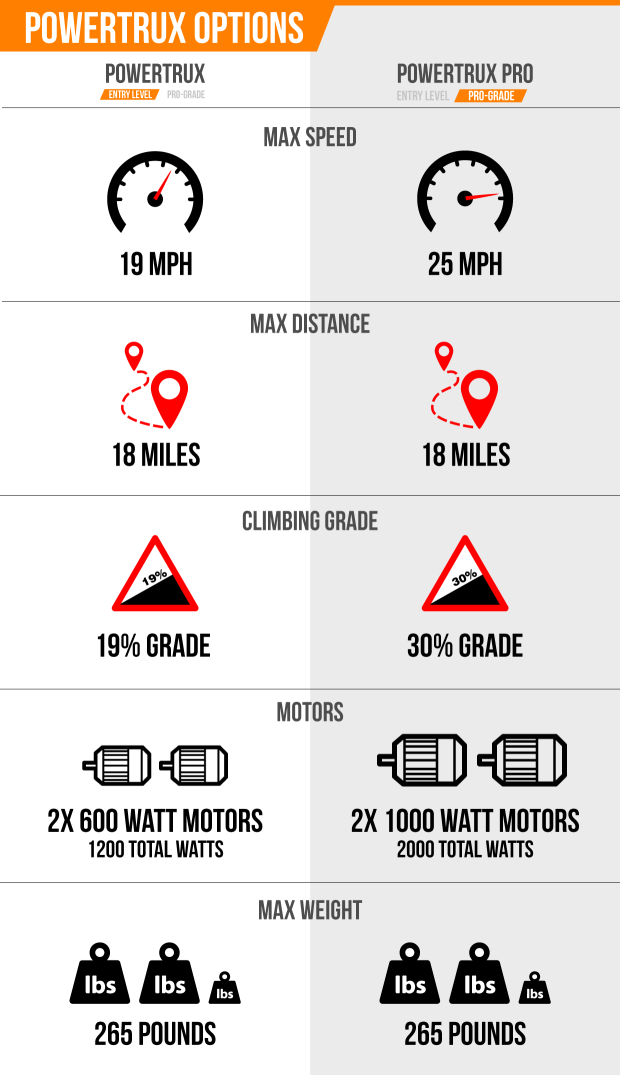 What's Included
PowerTrux Motor System
Front Trucks and wheels
Battery Pack (1) *Additional battery packs are sold separately
Charging Adapter for the battery
Wireless Remote
All-In-One Installation T-Tool
2 – Replacement Tires
USB Cable
Rubber gasket
Set of 8 tapered flat top screws and nuts
Manual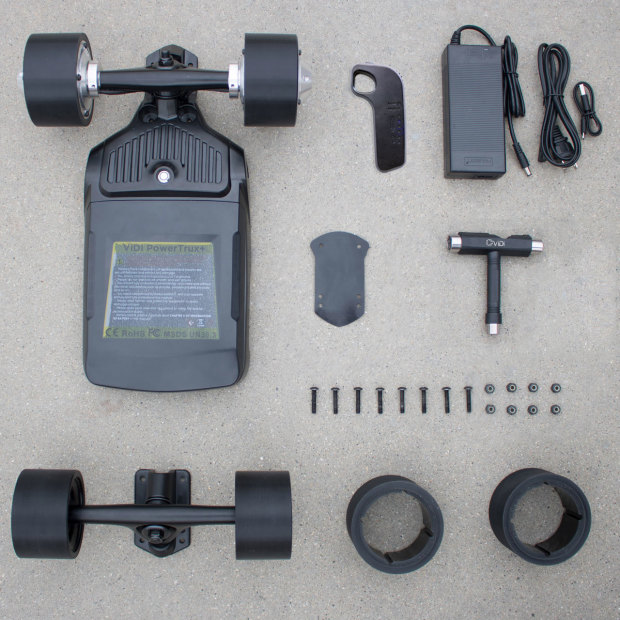 Boards
Choose your style – We've teamed up with JaseBoards to bring you the slickest bamboo boards from Hawaii. Clean lines, designs that pop, and a comfortable flex gives a smooth riding experience for all boarders.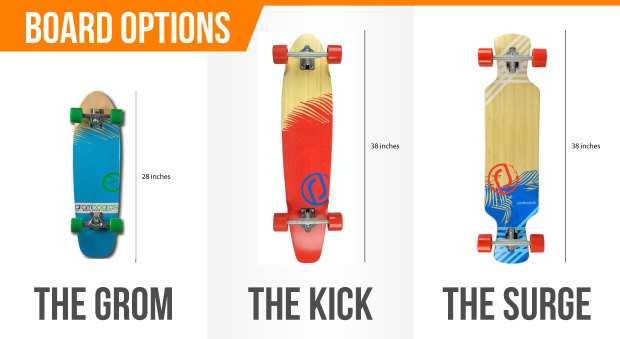 THE GROM
Some of the best things in life come in small packages. The Grom is a compact 28″ cruiser that gives you the ultimate convenience when zipping to class or around town.
28″ Cruiser design
2 Layers Bamboo (one top and one bottom)
3 Layers Maple in the center
THE KICK
A throwback to one of the most iconic board designs, the Kick is a timeless classic that's perfect for beginners and experts alike. Versatile as it is beautiful, you can take this board cruising, freeriding, as well as sidewalk surfing.
38″ classic pintail design.
7″ long tail for sharper turns.
2 Layers Bamboo (one top and one bottom)
3 Layers Maple in the center
Dimensions: 38″ Length x 8.5″ Wide
Weight: 
THE SURGE
The Surge is a modern, bottleneck longboard design.  It has symmetrical flared nose and tail kicks which gives you a stable, stylish ride.
38″ Bottle Neck Design
2 Layers Bamboo (one top and one bottom)
4 Layers Canadian Maple in the center core
Mid U Low U Concave platform
Dimensions: 38″ Length x 9″ inches wide
Weight: 8 lbs 12 oz
Compatibility
Q: What boards does this work on? Will this work on mine?
A: Our system works on nearly all longboards and skateboards with a standard truck system. It  mounts using your existing truck holes, so no drilling or additional hardware required. It will NOT work on boards with a deep drop.

Rewards

Warranty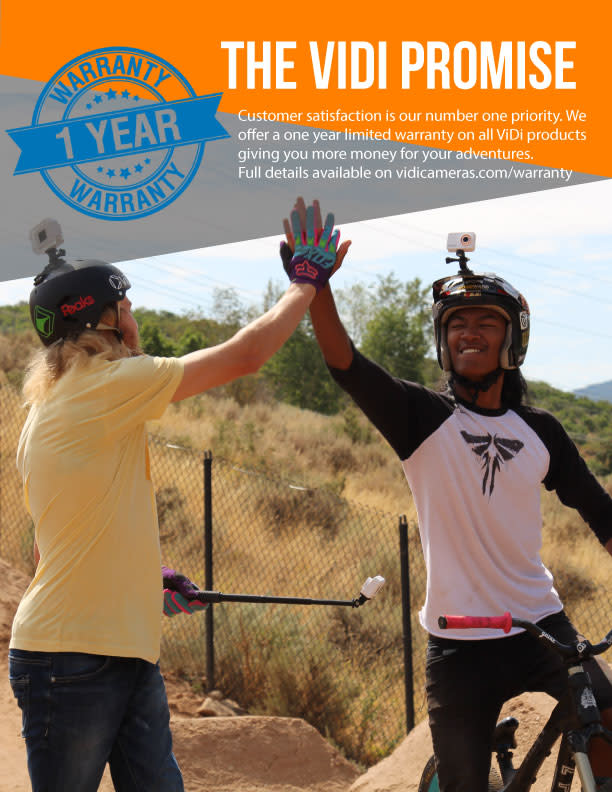 As a company that's been around the block, we understand the importance of good customer support. Like all ViDi products, PowerTrux is backed by our 1 year warranty.
*except consumables like treads and the battery pack (6 months)
Safety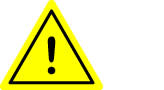 Just as any good mother would tell you, board sports are inherently dangerous. Exercise good judgement and wear proper safety gear. We don't want any of you winning any Darwin awards.
We've developed the PowerTrux using your feedback and are ready to go. We have working prototypes and production lines in waiting. We are ready to deliver in time for your Summer adventures! We need your backing and support to bring this to everyone! Here's what the timeline looks like: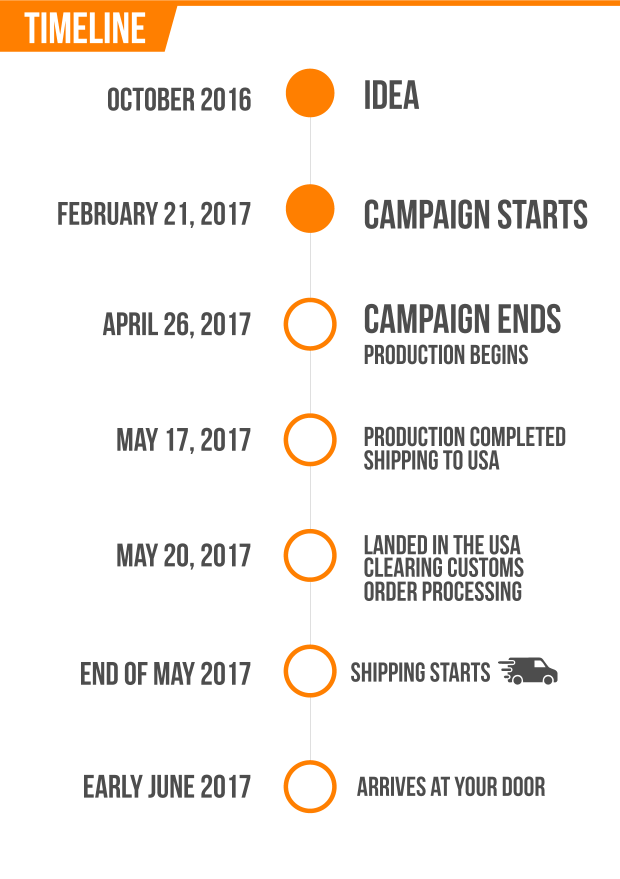 Nestled in the tech city of Provo, Utah, the ViDi team is constantly developing the latest and greatest consumer technology products that are both fun and affordable.  We love technology, having fun, and meshing the two together.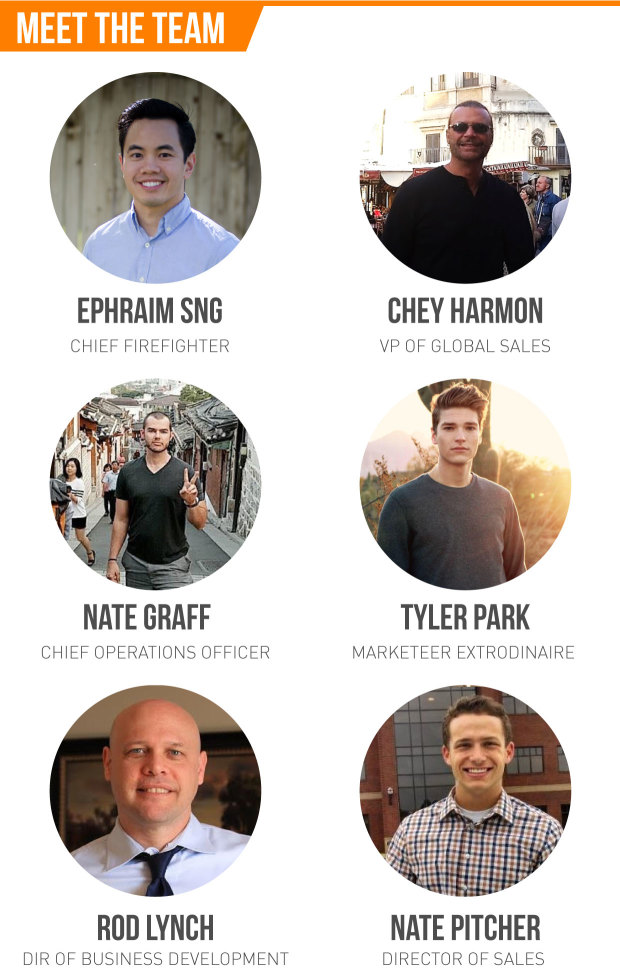 Life is about the journey, not the destination. Zip around  conveniently and have fun while doing it. Because ultimately, the best commute is the one that you enjoy.
Bikes are cumbersome to lock and worry about getting stolen. Scooters are bulky to haul around. We liked the idea of electric skateboards but have been largely unimpressed with how much they cost, their speed, distance, and especially how we got stuck with a board we didn't like.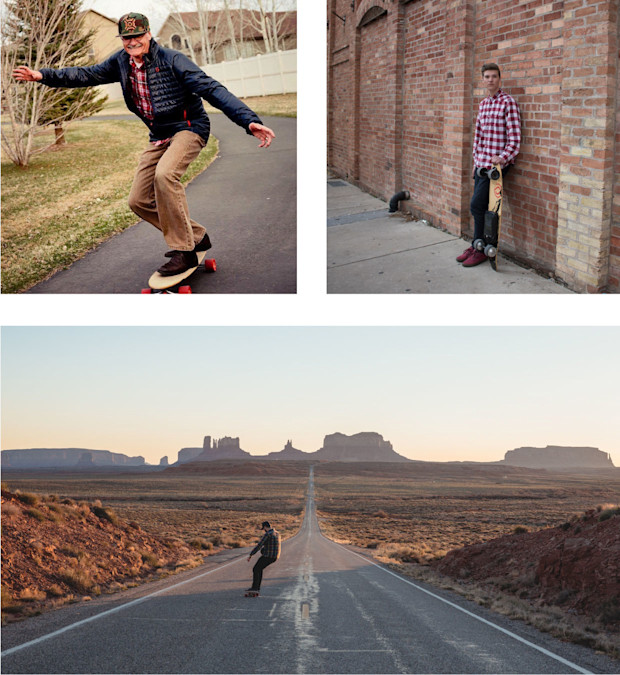 CUSTOMS & DUTIES INFORMATION
We cannot mark as gift when shipping to avoid custom fees. This is illegal so please don't ask.
For US and Canadian backers, we will pay for the VAT and GST charges. For all other countries, we are unable to cover VAT and GST, but will do our best to get it to you in the most cost efficient way possible.
Our terms of sale are CIF destination. This means that we pay all freight, but none of the duties or taxes except for US and Canadians. As we are shipping these products all over the world, it is impossible for us to build in the various duties, VAT and GST tax for each location through Indiegogo.
You can use this tool to assist you in calculating duties. Remember to convert the US dollars to your local currency:
http://www.dutycalculator.com/new-import-duty-a…
REFUND POLICY
100% pledge back guarantee – you will have 7 days after the end of the campaign to receive a full refund. After 7 days, we will start manufacturing the products and will NOT be able to issue any refunds at that time.
EXCHANGE & RETURN POLICY
We do not do returns for crowdfunding products. However, if you receive the wrong product, our exchange policy is 30 days from when you receive your product according to the tracking number. If 30 days have gone by since your purchase, unfortunately we can't offer you an exchange. To be eligible for an exchange, your item must be unused, free from dirt, dust or damage and in the same package and condition that you received it. If your return passes our inspection, you may receive an exchange. If you have a factory defect, you may apply for your warranty and we will send you a new product. See warranty guidelines below.
SHIPPING POLICY
If our shipping carrier attempts delivery to you and you don't get it because you're not there, wrong address, moved without notifying us, and the package returns back to our warehouse, we will not be able to send you another product.
When you receive your tracking #, please keep an eye out for the package.
WARRANTY
Our products come with a 90-day warranty starting on the day of receipt. You will need to apply for a RMA number and pay for the shipping to send your product in. When we receive and process your return with the associated RMA number attached. If the product has a defect, we will fix or replace your product and refund your shipping.
RISK & CHALLENGES
This isn't our first rodeo. We have already completed and successfully fulfilled a $160,000 Kickstarter campaign for action camera. We have lots  of crowdfunding fulfillment experience. Our team combined has nearly 20+ years of manufacturing experience & 10+ years of design & branding experience. All of us are entrepreneurs and have started several successful businesses. We know how to get the job done and know how to do it right. So you can sleep well at night knowing not only will your board be freaking great, but it will be done right the first time!
We have done our homework, so the risks are minimal. We are also partnered with the best manufacturers in the industry. Our production lines are scheduled and we have priority on the line.
What you are seeing here is pretty close to the final version. It will only get better from your feedback!
Please feel to reach out to us if you have any concerns at support@vidiactiongear.com or leave a message in the comments. Thanks for your support.
Contact Information:Ephraim Sng